Description
Therizinosaurs had a very distinctive, often confusing set of characteristics. Their long necks, wide torsos, and hind feet with four toes used in walking resembled prosauropod dinosaurs. Their unique hip bones, which pointed backwards and were partially fused together, initially reminded paleontologists of the "bird-hipped" ornithischians. Their claws and hands, however, were most like the carnivorous theropods. Because early finds were incomplete, this strange suite of anatomical features led some scientists, such as Gregory S. Paul, to conclude that segnosaurs (Therizinosaurus was not yet recognized as part of the group) represented a late-surviving suborder of primitive dinosaurs, sometimes thought of as intermediates between prosauropods and ornithischians. Because of their suspected relationship with prosauropods, early depictions of segnosaurs (including illustrations by Paul) portrayed them as semi-quadrupedal, a mode of locomotion now known to have been impossible given the bird-like nature of their wrists. It also led Paul to include segnosaurs within paleontologist Robert T. Bakker's Phytodinosauria in 1986, a superorder which was to include ornithischians, prosauropods, and sauropods, typified by their "blunt, spoon-crowned teeth suitable for cropping plants."
It was not until the mid-1990s, after Alxasaurus was discovered and shown to possess more typically theropod features, and Therizinosaurus was recognized as a member of the segnosaur group, that their true identity as herbivorous descendants of the carnivorous theropods became generally accepted. The relation between the more derived therizinosaurids and other theropods was greatly elucidated by the discovery of primitive members of the group, such as Beipiaosaurus in 1999 and Falcarius in 2005. The scientists who described Falcarius noted that it seemed to represent an intermediate stage between carnivorous and herbivorous theropods, a sort of "missing link" between predatory maniraptorans and plant-eating therizinosaurs. Although they are now classified as theropods, therizinosaurs had skulls similar to those of sauropods and the shape of their teeth and jaws make it likely that they were herbivores.
Among the most striking characteristics of therizinosaurs are the enormous claws on their hands, which reached lengths of three feet in Therizinosaurus. The unusual range of motion in therizinosaur forelimbs, which allowed them to reach forward to a degree other theropods could not achieve, also supports the idea that they were mainly herbivorous. Therizinosaurs may have used their long reach and strongly curved claws to grasp and shear leafy branches, in a manner similar to the prehistoric ground sloths.
Skin impressions from Beipiaosaurus indicate that therizinosaurs were covered with a coat of primitive, down-like feathers similar to those seen in the compsognathid Sinosauropteryx, as well as longer, simpler, quill-like feathers that may have been used in display. Therizinosaurs spanned a large range of sizes, from the small Beipiaosaurus (which measured 2.2 m, or 7.3 ft in length), to the gigantic Therizinosaurus, which at an approximate 10–12 m (33–40 ft) long and an estimated weight of 6.2 tonnes, was among the largest known theropods.
Therizinosaurus
Therizinosaurus ('scythe lizard', from the Greek therizo meaning 'to reap' or 'to cut off' and sauros meaning 'lizard') is a genus of very large theropod dinosaur. Therizinosaurus
lived in the late Cretaceous
Period (late
Campanian
-early
Maastrichtian
stages, around 70 million years ago), and was one of the last and largest representatives of its unique group, the Therizinosauria. Its fossils were first discovered in Mongolia and they were originally thought to belong to a turtle-like reptile (hence the species name,
T. cheloniformis
— "turtle-formed"). It is known only from a few bones, including gigantic hand claws, from which it gets its name.
Discovery and species
The first fossil remains of Therizinosaurus were discovered in the late 1940s by a joint Soviet-Mongolian fossil expedition, in the Nemegt Formation of southwestern Mongolia. The expedition unearthed several giant claws that measured up to a meter in length. These were described by Russian paleontologist Evgeny Maleev in 1954, who thought they belonged to a large, turtle-like reptile. However, it was not known what creature these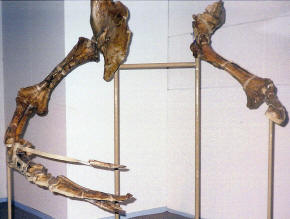 Fossil Therizinosaurus arms from Mongolia, exhibited in Experimentarium, Denmark (Picture Source)

belonged to until the early 1950s, when further expeditions unearthed more fossils: several more sets of claws and parts of the fore and hind limbs. Subsequent finds in northern China allowed paleontologists to assemble the general skeletal structure of the animal, which was determined to be a dinosaur and not a turtle.

The discovery that the enigmatic segnosaurs (including Erlikosaurus and Segnosaurus) were actually theropods helped clarify the relationships of Therizinosaurus. Various theories had been proposed to explain the ancestry of the "segnosaurids," with some scientists even suggesting they were descendants of the sauropodomorphs - but new, well-preserved finds such as Alxasaurus in 1993 and Beipiaosaurus in 1996 provided details about the bird-like pelvis, feet and skulls of primitive members, and helped confirm that segnosaurids belonged to the same group of theropod dinosaurs as Therizinosaurus (and were therefore re-named therizinosaurids), and that therizinosaurs were, more specifically, advanced, herbivorous maniraptoran theropods.

Characteristics

Though the fossil remains of Therizinosaurus are incomplete, inferences can be made

about its physical characteristics based on related therizinosaurids. Like other members of its family,

Therizinosaurus

probably had a small skull atop a long neck, with a bipedal gait and a heavy, deep body (as evidenced by the wide pelvis of other therizinosaurids). Its forelimbs may have reached a length of 2.5 meters (8 ft) long. Its hind limbs ended in four weight-bearing toes, unlike other theropod groups, in which the first toe was reduced to a

dewclaw

.

The most distinctive feature of Therizinosaurus was the presence of three gigantic claws on each digit of its front limbs. These were especially large in Therizinosaurus, and while the largest claw specimens are incomplete, they probably reached just under 1 meter (3.28 feet) in length.

Paleobiology

The feeding habits of Therizinosaurus are unknown, since no skull material has ever been found that could indicate its diet. However, like other therizinosaurs, it was probably primarily herbivorous.

There are multiple possible functions that could have been served by the claws of Therizinosaurus, such as defense against predators (e.g. the contemporary Tarbosaurus) and in intraspecific fighting, such as fighting for territory or for mating, or to pull leafy tree branches towards its mouth. The claws may even have served all these functions.

Return to the Old Earth Ministries Online Dinosaur Curriculum homepage.

Shopping
Bay State Replicas - Claw
Black Hills Institute - None