Old Earth Ministries and Answers in Genesis - What's the Difference?
Welcome to Old Earth Ministries (formerly Answers In Creation). Because of the false claims made by young earth creationists, many people have rejected Christianity. A proper understanding of the Bible shows that you can believe in God, and believe the earth is billions of years old.
This website exists to provide rebuttals to the claims made young earth creationists. We currently have over 1,500 articles on a wide variety of topics. Feel free to explore and check them out. If you have more time, consider taking our One Hour Tour. Thanks for visiting, and God Bless!

Explanation of Old Earth Creation Science

Comparison Table for Old Earth Belief Systems



Can You Be A Christian And Believe In An Old Earth?


Tips for Navigating this website


---

How OEM Helps Others - Here's an example:

"I'd like or start off by saying how much of an inspiration you've become to me. I absolutely love this website, it has helped me defend myself in so many ways. You see, I'm 15, and live in a rural area where everyone seems to base their beliefs on YECism. The churches in my area take the same stance. I've always been a heavy believer in a Old Earth, and firmly believe that Science and Scripture do not have to be two separate things. Because of this, I have had my beliefs attacked time and time again by fellow Christians saying that I cannot believe in Old Earth and be a Christian at the same time. I try to respectfully defend myself and always make sure it's known that my goal isn't to "convert" anyone, just to get them to understand that even though I'm a believer in a Old Earth, I am still a devoted Christian! My arguments never seem to be strong enough, though. I can knock down many if their arguments, but sometimes they pull out one I don't have an answer for, and they use that said argument as proof saying I'm completely wrong. Thanks to this site, though, I've now been able to prepare myself for whatever is thrown at me, and am reassured that I truly can believe in a Old Earth and be Christian! I cannot thank you enough, and I look forward to using my new Geologist's Hammer!"

T.W.

Tell your Friends about
Old Earth Ministries


Latest Articles

Why the Flood is not Global

Distant Starlight

Raqia' Revisited—Another View of Genesis 1

Do Park Signs Teach Error?

Is Young Earth Creationism a Cult?

Limiting Factors and the Age of the Earth

Ten Year Anniversary of Old Earth Ministries

Creation Science Hall of Fame

Youthful Solar System?

Museum Tour: Introduction

Do radioisotope methods yield trustworthy relative ages for the earth's rocks?

Dinosaur Extinction and Global Catastrophe

Dinosaur Footprints and Noah's Flood

Attaching Extras to the Gospel

How Could Most Creationists (YEC's) Be Wrong?

Why does Andrew Snelling use RATE team funding to falsify his own claims?

Answers in Genesis' complaint against Old Earth Ministries (Answers In Creation)

Support Old Earth Ministries


Click the graphic below to donate through PayPal. No Paypal account required.
Latest Young Earth Creation Science Rebuttals
---
Radioisotopes and the Age of the Earth (R.A.T.E.)
A multi-year study done by the Institute for Creation Research claims to have evidence against radiometric dating. In reality, they have empty claims which have no scientific basis in fact.

RATE Creation Science Index
Thousands...Not Billions, a Young Earth Book Review
---
Online Geology Curriculum
A one semester online Geology curriculum for home school students, provided at no cost. For more information, visit the Geology Curriculum homepage. Also available is our brand new Dinosaur Curriculum and the Earth History Curriculum.
---
Denomination List
Which church denominations will openly accept old earth creation science?
Click here to see!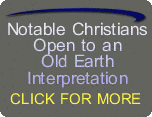 Billy Graham and Creation Science
C.S. Lewis, author of Narnia. Great Theologian, and an Old Earth Creationist!
Charles Spurgeon and the Age of the Earth
Proclaim Your Belief in an Old Earth! Get a Bumper Sticker or T-Shirt Here
Popular Articles
Old Earth Creation Science: Where Was the Flood of Noah
Stratigraphy and Creation Science
Dinosaurs Prove the World is Old

Word Study: Yom

Creation Science Book Review: Grand Canyon: Monument to Catastrophe
Deceit (Video) - An off-site video presentation by a retired police officer with training in cult practices. He examines young earth ministries in this video
One Hour Tour
Don't have much time? Take the One Hour Tour. Six articles that drive home the bad science behind young earth creationism.
Scripture Memory
Creation Science may be important, but not as important as your personal walk with Jesus Christ. Nothing can make your personal walk better than Scripture Memory. To learn more, visit the Scripture Memory page.
If you like what you see, please consider a small donation. For more information, see the Donation page.