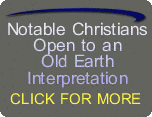 Like this website? You Can Help!
We operate on a very small budget. Help by simply sending a dollar bill or two in an envelope to:
Old Earth Ministries
P.O. Box 653
Springfield, OH 45501
Note: Contrary to popular belief, it is not illegal to mail money. You may also donate through Paypal.

Billy Graham and Creation Science
C.S. Lewis, author of Narnia. Great Theologian, and an Old Earth Creationist!
Charles Spurgeon and the Age of the Earth
Proclaim Your Belief in an Old Earth! Get a Bumper Sticker or T-Shirt Here
Popular Articles
Old Earth Creation Science: Where Was the Flood of Noah
Stratigraphy and Creation Science
Dinosaurs Prove the World is Old

Word Study: Yom

Creation Science Book Review: Grand Canyon: Monument to Catastrophe
Deceit (Video) - An off-site video presentation by a retired police officer with training in cult practices. He examines young earth ministries in this video
One Hour Tour
Don't have much time? Take the One Hour Tour. Six articles that drive home the bad science behind young earth creationism.
Scripture Memory
Creation Science may be important, but not as important as your personal walk with Jesus Christ. Nothing can make your personal walk better than Scripture Memory. To learn more, visit the Scripture Memory page.