Old Earth Ministries and Answers in Genesis - What's the Difference?
Popular Creation Science Articles


Search OEM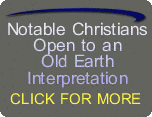 Billy Graham and Creation Science
C.S. Lewis, author of Narnia. Great Theologian, and an Old Earth Creationist!
Charles Spurgeon and the Age of the Earth
Volunteer to Write a Creation Science Rebuttal
Deceit (Video) - An off-site video presentation by a retired police officer with training in cult practices. He examines young earth ministries in this video
Scripture Memory
Creation Science may be important, but not as important as your personal walk with Jesus Christ. Nothing can make your personal walk better than Scripture Memory. To learn more, visit the Scripture Memory page.
Old Earth Evidences Series Index